Vaccination

Programs

Similar to terrestrial animals, misuse of antibiotics to control these infectious diseases could lead to the generation of antimicrobial resistance (AMR). Fishes may ingest different doses of the antibiotic, which in excess, accumulate in the fish tissue. Organisms in fish tissues under antibiotic stress would be promoted to produce antibiotic resistance genes (ARGs). These would eventually be released to the local aquatic system and facilitated to contaminate nearby farms. Combined with proper farm management through good hygiene and limited stress, vaccination is an important key to combat infectious diseases and reducing AMR generation.

Although part of the global aquaculture, molluscs and aquatic plants do not possess advanced immune system for vaccines to be effective.

An aquatic veterinarian or fish health specialist/professional should be consulted to determine the appropriate licensed vaccines to use and also when developing autogenous vaccines for specific pathogen and fish farm.
Common Diseases/Pathogens affecting Aquaculture Industry
Bacterial
Viral

Fishes

Aeromonas hydrophila
Aeromonas salmonicida
Flavobacterium
pyschrophilum
Lactococciosis
Moritella viscosa
Pseudomonas fluorescnes
Photobacterium
Renibacterium
salmoninarum
Streptococciosis
Tenacibacullum maritimum
Vibrio anguillarum
Vibrio salmonicida
Yersinia ruckeri
Infectios haemopoietic necrosis virus (IHN)
Infectious pancreatic necrosis virus (IPN)
Infectious salmon anemia virus (ISAV)
Lymphocystis disease virus (LCDV)
Nodavirus infection (VER)
Red Seabream Iridovirus (RSIV)
Channel catfish virus disease (CCV)
Spring viermia of carp (SVCV)
Grass carp hemorrhage disease (GCHDV)
Pancreas disease virus (PDV)
Salmon pox
Viral haemorrhagic septicemia virus (VHSV)
Viral nervous necrosis/SJNNV

Shrimps/Prawns

Necrotizing hepatopancreatitis (NHP)


Vibrio (V. alginolyticus, V. costicola, V. harveyi, V. splendidus, and V. parahaemolyticus) Photobacterium

White spot syndrome virus (WSSV)
White spot baculovirus (WSBV)
Taura syndrome virus (TSV)
Yellowhead virus (YHV)
Infectious hypodermal and haematopoietic necrosis virus (IHHNV)
Aquaculture vaccination is usually administered in small juveniles/larvae and revaccination may be needed depending on possible outbreaks on nearby areas and the long-term protection of vaccines.
In addition to hygiene and stress, species variety and temperature also affects the effectiveness of the vaccine administered. Some species differ eliciting immune response effective for a given fish pathogen. Seabass, including barramundi, acclimated to warm temperatures have detectable antibodies after one week of immunization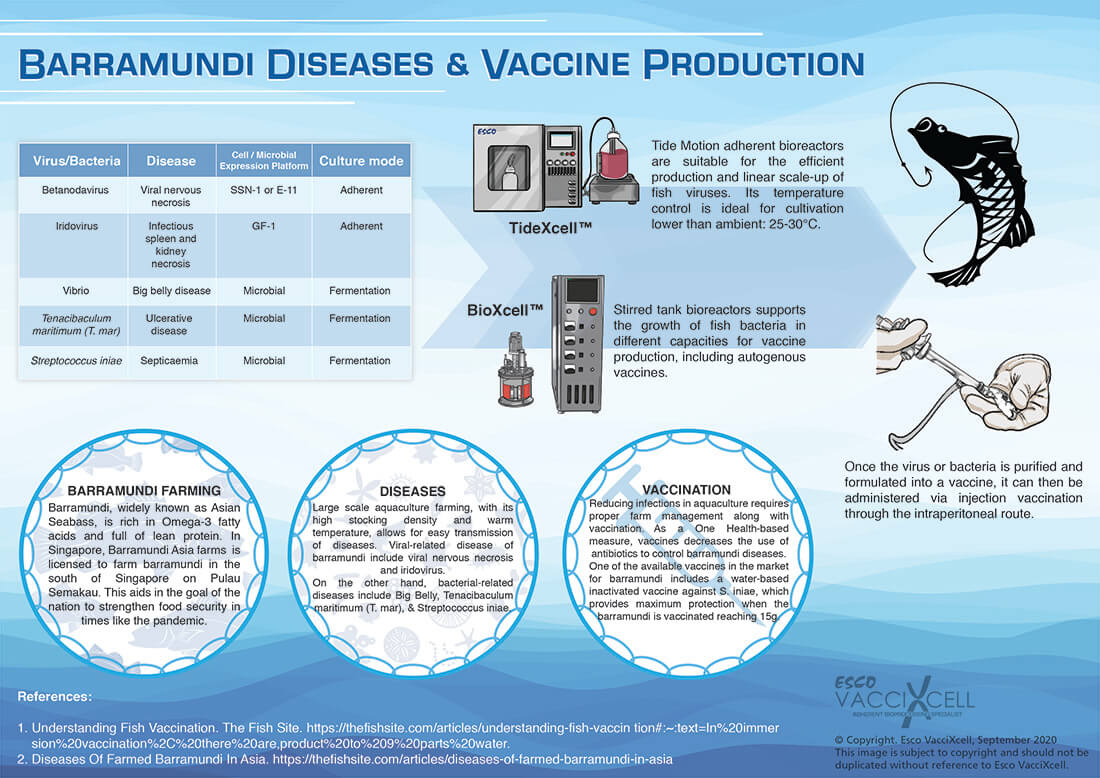 References:
Mutoloki, S., Munang'andu, H. M., & Evensen, Ø. (2015). Oral Vaccination of Fish - Antigen Preparations, Uptake, and Immune Induction. Frontiers in immunology, 6, 519. doi:10.3389/fimmu.2015.00519
Salama, N.K., & Murray, A.G. (2011). Farm size as a factor in hydrodynamic transmission of pathogens in aquaculture fish production.
Siripornadulsil S., Dabrowski K., Sayre R. Microalgal vaccines. Adv. Exp. Med. Biol. 2007;616:122–128
Sommerset I., Krossøy B., Biering E., Frost P. Vaccines for fish in aquaculture. Expert Review of Vaccines. 2005;4(1):89-101.
Use of Vaccines in Finfish Aquaculture. The Fish Site. https://thefishsite.com/articles/use-of-vaccines-in-finfish-aquaculture