Various anchorage-dependent cell lines such as Chinese Hamster Ovary (CHO), Kidney Epithelial Cell (VERO), Madin-Darby Canine Kidney Cell (MDCK), and Insect Cell (SF9) were used for vaccine, protein, and monoclonal antibody productions. The use of roller bottles and cell factories were prominent for the large-scale cell culture of these adherent cells; however, the development was costly, expensive, and always at risk of contamination.
Microcarrier-based cell cultures have since made use of stirred tank bioreactors (STR) and fixed-bed bioreactors with macrocarriers. Compared with STR, the fixed-bed bioreactor has the capacity to protect cells from stressful conditions and perfusion culture model is easily achievable. Singapore-based macroporous carrier manufacturer Esco VacciXcell, supplies BioNOC II® for use with different cell types. The use of macroporous carriers is a promising technique that has advantages in enhancing production capacity, improving the culture's robustness, and facilitates process scale-up allowing the culture of various animal cells in high yield.
Unlike other types of microcarrier for cell culture, a macroporous carrier such as BioNOC II® creates a multilayer culture (3D cell growth) that allows cell to cell and cell to extracellular matrix interactions, mimicking the cell's in vivo environment. This is highly essential for multiple cellular processes, including differentiation and proliferation. Materials used in the creation of BioNOC II® are FDA-approved, cGMP compliant, and this macroporous carrier manufacturing passed regulation guidelines USP Class VI, USP <87>, <83>, ISO 10993-5.
Vero Cells: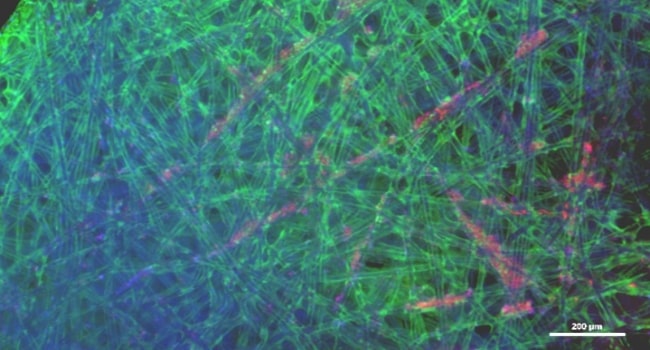 Live cells (fluorescent) staining of Vero cells on BioNOC II® II under 4x magnification. Calcein green staining of cytoplasm and Hoechst 33342 (blue) staining of the nucleus.
Mesenchymal Stromal Cells: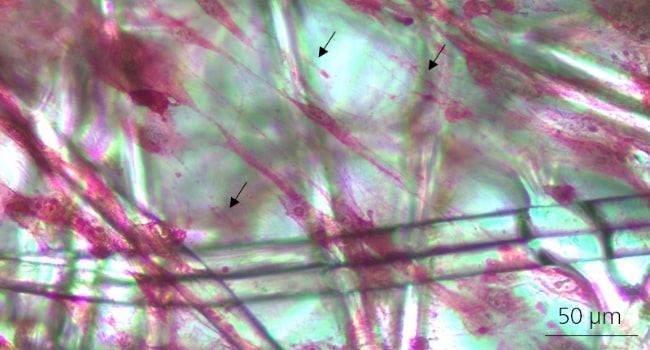 Black arrow points show ECM CL-MSCs cultured 4 days in BioNOC II® II - staining of collagen fibers with picro sirius red