Cell culture involves growing adherent cells in an artificially controlled environment for various biotechnological applications. Adherent and suspension cell cultures require optimized conditions for both nutritional (substrate or medium) and physicochemical requirements to achieve high product or cell yield. Adherent cell culture involves surface support for cell proliferation while suspension cell culture do not, as suspension cells grow free-floating in the culture medium.
Producing Stem Cells and Virus in Manufacturing Scale for Vaccines and Cell Therapy
Expansion processes for both stem cells and virus on 2-dimensional systems limit its potential to reach high product yield. These systems are enough for research and development scale which only caters to a small number of patients. As these applications evolve, bigger systems are required to achieve high amounts of virus and cells due to how these products are rather different but best when cultured in adherent.
Esco VacciXcell's TideXcell® Tide Motion bioreactor is designed to produce higher viral titers through its proprietary 100% media exchange and more than 90% stem cell harvest with the TideXcell® Harvesting System (TXLHS). This flexible technology provides cells with 3-dimensional in vivo environment, with extremely low shear stress and high productivity. With scalability of up to 100 L packed-bed volume, one can simply replace 100,000 pieces of flasks to save labor, time, and space requirements. TideXcell™ is available in both single-use or multiple-use technology with advanced, automated controls, equipped with pH, dissolved oxygen (DO) sensors, and sampling ports for cell monitoring and observation. This system is currently used worldwide for vaccine and cell therapy production, helping them bridge the gap of cell culture from discovery to delivery.
White papers for vaccine and viral production on Tide Motion bioreactors tackle the linearly-scalable capability of the technology for culturing adherent cells grown from bench-scale to TideXcell pilot scale bioreactor. This robust cGMP compliant platform allowed the production of higher viral titers and cells to break the barriers in cell manufacturing and cater to many patients.
The Tide Motion platform is composed of two parts :
The Packed-bed
Anchorage-dependent cells require surface to adhere in order to grow. Culture vessels such as t-flask and roller bottles are typically used but the difficulty in scale up has led to the development of carriers. Carriers provide optimum environment for adherent cell culture. The advantages of carriers are ease of scale up, cost reduction from serum and culture media, minimum risk of contamination, and reduction of handling process. Carriers are used to grow virus-generating or protein-producing adherent cells in a large-scale commercial production of vaccines and biologics.
Carriers come in different shapes and sizes. Microcarrier beads are spherical in shape and suitable in stirred tank bioreactors. Another form can be in sheets or fibers which are used in packed-bed or tide motion bioreactors. A wide variety of carriers are available in the market with different physical and chemical properties. The choice of carriers depends greatly on the type of cells to be cultured as different cells have varying anchorage requirements.
The BioNOC II® is a macroporous carrier that supports the growth of anchorage-dependent cells including animal, mammalian, and insect cells in either serum-containing or serum-free culture media. It is made of 100% pure polyester nonwoven fabric manufactured according to cGMP guidelines. The special 3-dimensional design and surface treatment on the carrier enhance fluid mixing, immobilization efficiency, protection from shear forces, and nutrient transfer during cell culture. Adherent cells have larger surface area to grow without compromising equipment footprint (Figure 1).

Figure 1. A comparison dimension for bench-scale and manufacturing Tide Motion bioreactors for adherent cell culture.
The size of the unit remains but the number of carriers to be used can be changed (TideXcell®).
Media Reservoir
The media reservoir varies from one Tide Motion bioreactor to the other. The research and development scale, CelCradle® system both have the packed bed and the reservoir in the same vessel. For production or manufacturing scale, the TideXcell® separates the media reservoir from the packed bed (Figure 2). This solves scaling up issues regarding aeration exchange. Dual oxygenation is possible through exposing the carriers to air during aeration phase as well as the available dissolved oxygen in the well-mixed culture media (Figure 3). Aside from that, the separation allows dual temperature control, which is an important factor for some cell cultures to achieve high product yield.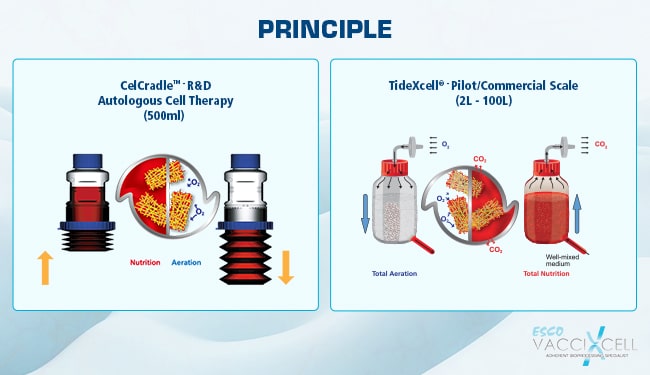 Figure 2. A diagram showing the difference in Tide Motion principle for bench-scale system versus manufacturing-scale system.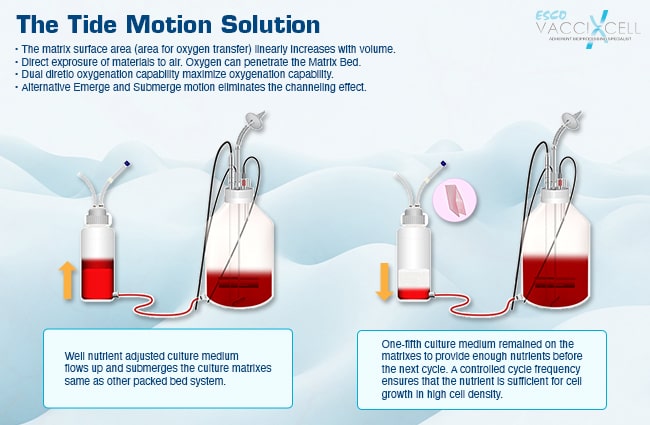 Figure 3. The separation of the matrix vessel from the mixing vessel solved aeration issues when scaling-up to a larger system.
Tide Motion is a bioprocess method that solves the adherent scale-up problem and provides a single-use bioprocessing method with closed, automated cell harvesting from seed preparation (0.1 L packed bed volume) to production scale (5,000 L packed-bed volume - bioequivalence of 50,000 L in suspension) all in the same 3D Tide Motion (Figure 4).