Esco VacciXcell have recently participated in BioProcess International Conference and Exhibition 2017 last September 26-28 in Hynes Convention Center Boston, Massachusetts. The event brought science, technology, and partners to accelerate promising biologics towards commercial success.
EscoVacciXcell continues to aggressively expand its patented tide motion bioreactors by showcasing the CelCradle™ bench-top bioreactor, the four-in-one Hybrid bioreactor, and launching the new and improved TideCell®, further revolutionizing its system for bioprocessing needs.
(Left) SCADA system that can be linked to control and monitor TideCell®; (Right) CelCradle™ Benchtop Bioreactor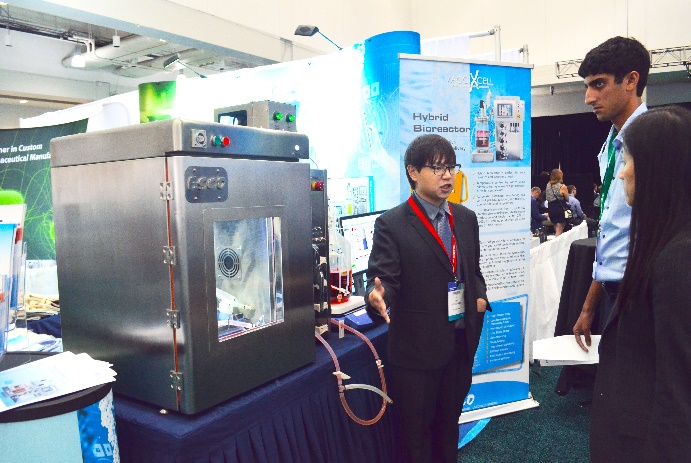 President of Esco Healthcare presenting the TideCell with its new design
Visitors showed an overwhelming interest to TideCell® for its capability of culturing adherent cells in a closed system suitable for cell therapy. Different scientists and researchers well perceived the CelCradle™ and TideCell® systems in the hopes of improving the vaccine development and manufacturing industry in the world.
The tide motion principle is the gentle oscillation of media in a cell culture. It greatly influences the nutrition and oxygen uptake of adherent cells being cultured thus, creating a stress-free environment with no oxygen limitation resulting to high cell density yield.
For visitors who require a system for culturing suspension cells such as Chinese Hamster Ovary (CHO) cell lines and for secreted production, the Hybrid bioreactor is the perfect solution. It can do four types of culture namely: adherent culture using macrocarrier, adherent culture using microcarrier, suspension culture, and fermentation.
The BioProcess International Conference and Exhibition 2017 was a huge success and brought collaborative minds to see key technologies of the bioprocessing industry, paving the way to modernization and innovative solution for the future.
Esco VacciXcell would like to extend their gratitude to all those who visited the booth and is looking forward to meeting you again next event!
Find out more about tide motion bioreactors here: http://www.vaccixcell.com/tide-technology/