Cell attachment in 3-dimensional carriers is proven advantageous for adherent cell growth to mimic the in vivo environment. However, harvesting of adherent cells such as mesenchymal stem cells (MSCs) and Vero cells, hinders a faster development for cell-based biopharmaceutical and biotechnology. It is considered as one of the most challenging and time-consuming part in the whole cell-culture process.
Adherent cell cultures are derived directly from the tissue (tissue explants) which attributes to their surface dependence for them to proliferate and to exert metabolic activity. They undergo several cell growth stages until confluency is reached. Most often, cells are harvested before or after reaching a certain percentage of confluency.
The harvesting of adherent cells is beneficial in biomedical applications requiring living cells. Choosing the right cell detachment process is dependent on the culture parameters. Some need chemical and mechanical processes for cell-detachment procedures to achieve high cell harvesting efficiency.
Available platforms in the market today requires manual harvesting of adherent cells which takes up a lot of the scientists' time and effort. For example, manual cell detachment such as cell scraping can be done at a laboratory scale but cannot be applied at a larger scale due to the manpower and resources needed to accomplish the task.
The Tide Motion platform offers an innovative way of a high-scale production of adherent cells. Transitioning from CelCradle™ to TideXcell™, larger volumes of adherent cells can be harvested. The TideXcell™ is equipped with its own closed, automated cell harvesting system, TideXcell™ Cell Harvesting System.
The TideXcell™ Cell Harvesting System (TCCHS) is specially designed for TideXcell™ high-density cell culture system for cell recovery from the matrix vessel (2 L, 20 L, 100 L volume). The TCCHS is a powerful tool to harvest and transfer viable cells from large scale TideXcell™ system in a closed and automated system; eliminating the risk of contamination. It can also be applied to harvest cell mass for biological production and any related applications. With the use of TCCHS, up to 1011 cells can be harvested within one (1) to three (3) hours operation.
Note: Cell yield depends on the chosen cell line cultured in the system
The system features an advanced design for biomass expansion solving the unmet need for seed train from 2D to 3D. It eliminates the challenges and maintains the cells in a chemostatic environment under three-dimensional cultures. Harvested cells grown in 3D have better biological mechanisms compared to 2D.
TCCHS is also important when it comes to autologous and allogeneic cell therapy. Since 3D adherent cell culture provides more accurate in vivo state, harvesting cells (such as stem cells) with the TCCHS shows great promise in terms of cell yield or product yield catering large dosage to patients.
Viruses are mostly intracellular (e.g CEF/Marek), which means effective harvesting of cells to release the virus is important to ensure viral particle integrity. The higher the yield of the cells, the higher viral titer can be harvested at the end of the culture process. With TCCHS, the success of harvesting the cells with intracellular virus is optimal.
The manner of harvesting adherent cells with the TCCHS follows the same concept as the conventional cell harvest method: a dissociation enzyme is needed to digest and detach the cells from the carriers.
THE PRINCIPLE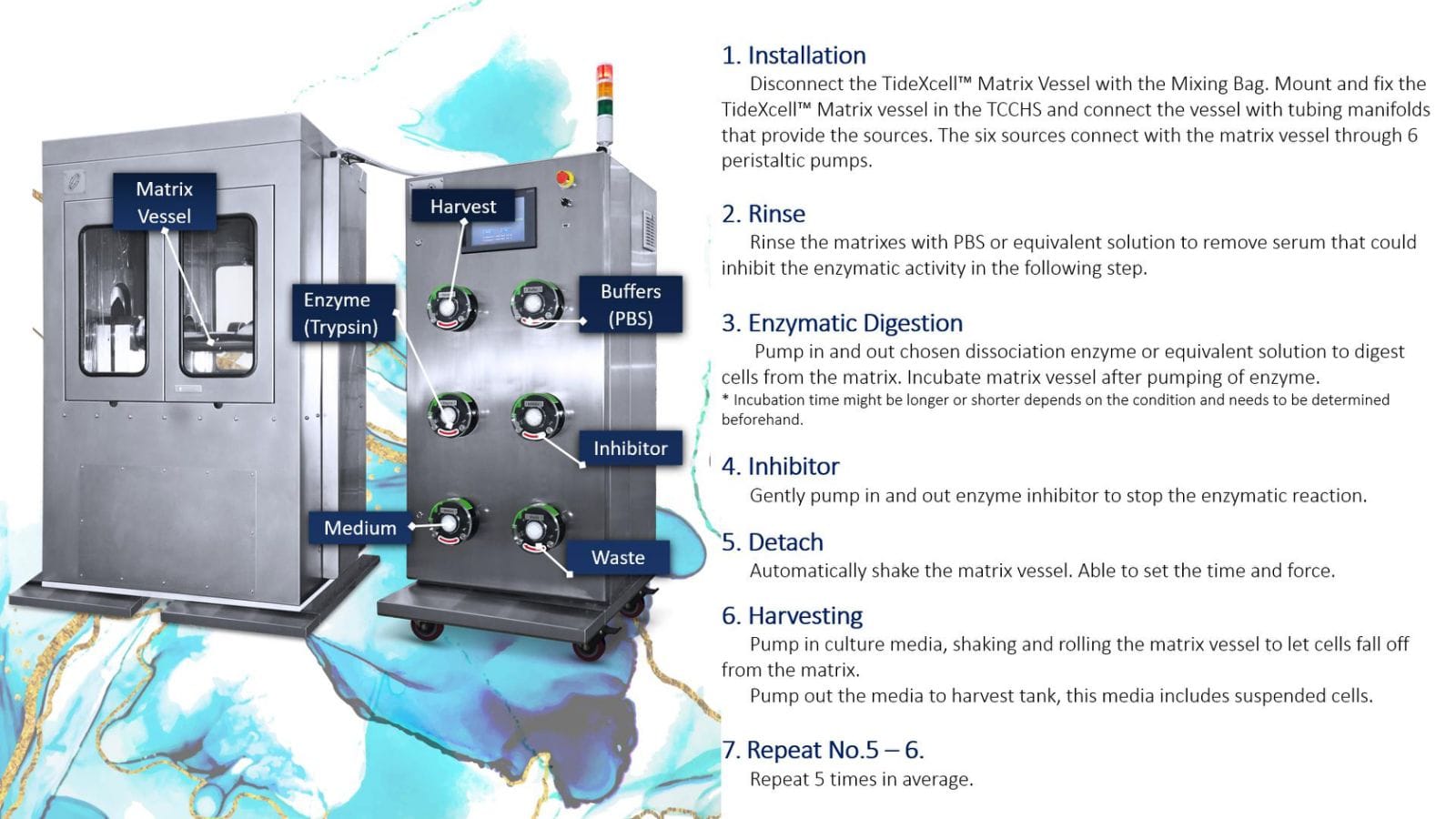 Adherent cell harvesting using enzymatic treatment is a well-established process that can be used for different types of supports. This harvesting method also has scalability potential due to the automation of the whole harvesting process, thus reducing time, saving cost, and achieving cell harvesting efficiency of >90%.