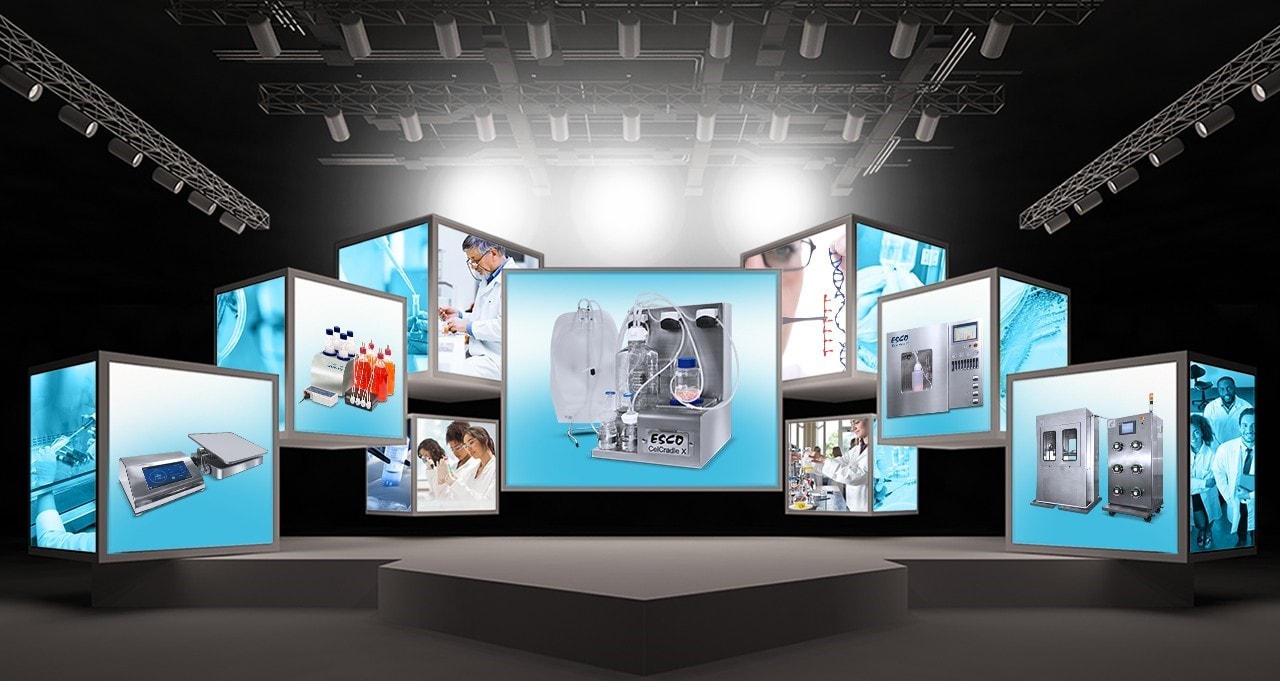 SINGAPORE – A single use, closed, and automated bioreactor has recently been launched as the latest addition to the Tide Motion technology platform. CelCradle™ X (CCX) was recently completed and manufactured in an ISO 13485 Esco factory and complies with cGMP requirements and 21 CFR part 11. The system was developed to support small-scale process development that can also satisfy GMP standards for clinical applications.
Compared to existing small-scale bioreactors for adherent cell culture, CelCradle™ X is a standalone unit equipped with automatic control of pH/DO with single-use or autoclavable probes. The pH level of 7.0-7.4 can be maintained either through pumping of CO2 gas and/or addition of a base.
In terms of packed-bed, an option to use BioNOC™ II, BioMesh®, or user's own is available. BioNOC™ II has been proven to provide a large surface area for the culture of adherent cells. With just 0.3 liters, this macrocarrier can yield an average of 600 million to 1.2 billion mesenchymal stem cells (MSCs) or HEK293T cells. This cell yield is sufficient for most adherent cell culture applications, like autologous cell therapy. For VERO/CHO cells, the carriers can expand these adherent cells up to 6-9x109 which is ideal for:
Small scale vaccine production (ex. Dengue vaccines)

Therapeutics using monoclonal antibodies/recombinant proteins

Enzyme replacement therapy

in vitro and in vivo diagnostics
Hypoxic and anaerobic can be configured in the unit's control system for adherent cell culture applications that require suppressed O2. Human mesenchymal stem cells, for example, grown in hypoxic (low oxygen) conditions mimicking its in vivo physiological situations. Oxygen is an important signaling stimulus for stem cells, hence hypoxic conditions is favorable for improved stem cell self-renewal and maintained differentiation potential.
The entire bioreactor comes with an automated control of temperature, suitable even for adherent cell cultures that requires low temperature. The temperature can be set from -8 °C from ambient to 40 °C, perfect for the production of aquaculture vaccines.
As part of the system's GMP compliance, the CelCradle™ X can be integrated into Esco-manufactured cGMP Cell Processing Isolator (CPI). The isolator can be equipped with a full viable/non-viable monitoring apparatus, an automated pressure hold testing, and an automated hydrogen peroxide bio-decontamination system for process sterility assurance.
The CelCradle™ X solves adherent cell scale-up issues as the whole Tide Motion® technology is linearly scalable up to 3,500 up to 5,000 L in packed-bed volume. Issues on scaling-out is eliminated due to available Tide Motion® bioreactors where users can scale-up from research and development scale using CCX (autologous cell therapy) to commercial scale using TideXcell™ (allogeneic cell therapy).
Although 2-dimensional methods such as T-flasks and roller bottles, are reliable and well-defined, the Tide Motion® bioreactors reduce labor-costs and breaks the scale-up production potential limit by providing a large growth surface area for adherent cells. As a newly added bioreactor in the Tide Motion® family, CCX has an advanced ability to reach high densities of adherent cells, automatically control culture parameters, and provides beneficial biological attributes of cell cultures in BioNOC™ II.
CelCradle™ X is available for beta-testing for current Tide Motion bioreactor users. You may learn more about its specifications through the sellsheet provided below.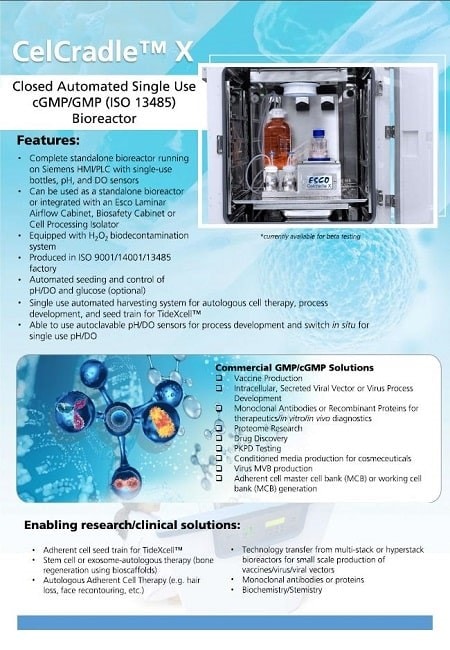 Download
For inquiries for trying out CCX, please contact us at [email protected].
Esco VacciXcell
21 Changi South Street 1
Singapore 48677
Telephone: +65 6542 0833
Email: [email protected]
About Tide Motion Bioreactors
Tide Motion pertains to the gentle oscillation of culture medium into and out of the matrix vessel that intermittently exposes the cells to aeration and nutrition. The upward oscillation exposes the cells to nutrition, while the downward oscillation exposes the cells to aeration. At the same time, this process washes away products and wastes. This oscillation produces no air bubbles and low shear stress. View a range of products at http://www.vaccixcell.com/tide-technology/
About Esco VacciXcell
Esco VacciXcell is the bioprocessing division of Esco Group of Companies that specializes in the marketing and manufacturing of bioprocessing equipment for cell culture.
Esco VacciXcell provides turnkey manufacturing solutions using its proprietary Tide Motion™ technology to help developing nations to be self-sufficient in the manufacturing, storing, distribution, and administration of vaccines and other biologics, thus providing a complete solution from Discovery to Delivery. For more information on VacciXcell, please visit www.vaccixcell.com