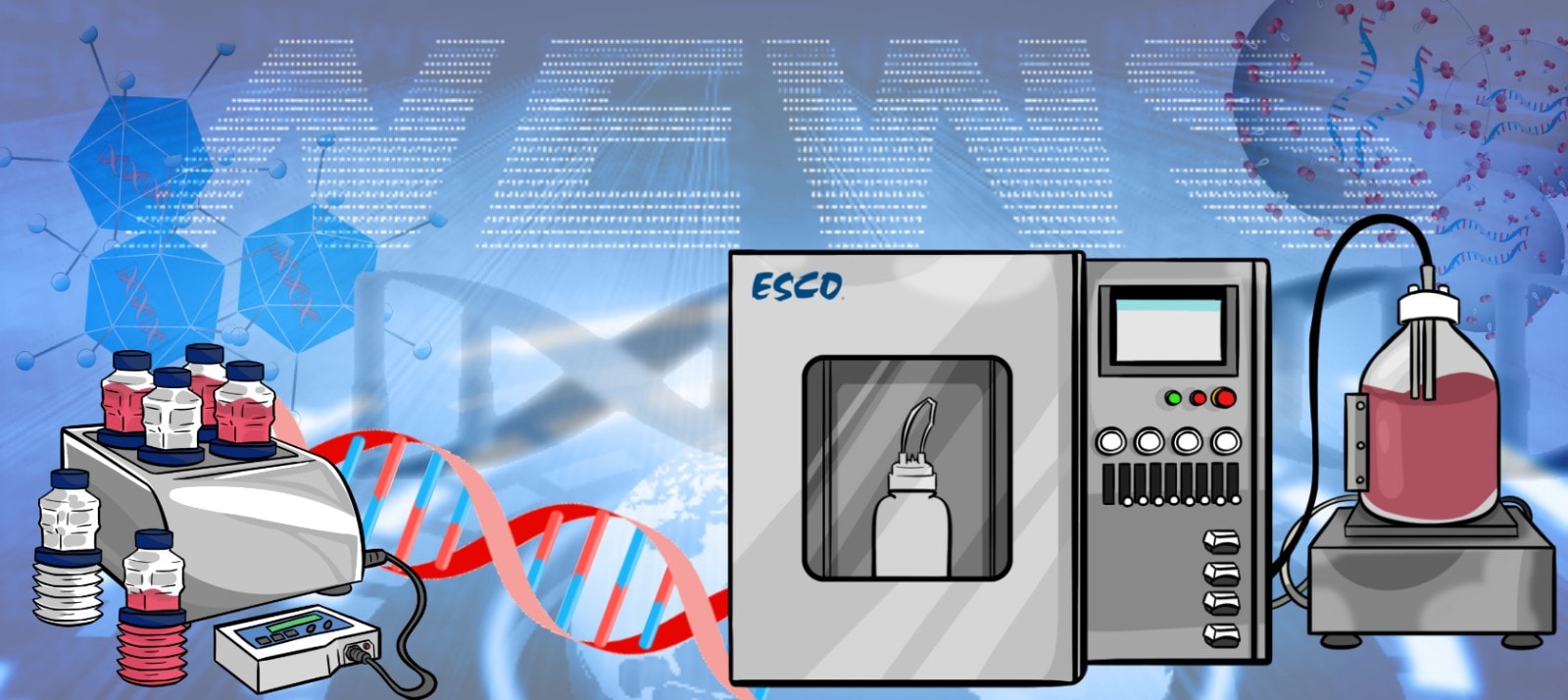 Viral vectors are derived from parental wild-type viruses, whose pathogenic genes are removed and replaced with gene of interest. These viruses deliver the gene of interest which alters gene expression in target cells. Their discovery led to clinical applications in treating chronic diseases such as neurodegenerative, ocular, and cancer.
These vectors can be employed in two main routes: in-vivo and ex-vivo delivery.
 

In-vivo

Ex-vivo

Patient administration

Direct

Indirect

Drug product

Engineered virus

Engineered cells

Applications

Gene therapy

CAR T-Cell therapy
Gene therapy
Viral vectors can be characterized based on their ability to integrate into the genome of the target cells. The gene of interest in non-integrative viral vectors is never integrated in the host genome; advantageous for reducing mutagenesis in essential host genes. Non-integrative viral vectors include adenovirus (Ad), herpes simplex virus (HSV), and vaccinia virus (VV). On the other hand, integrative viral vectors permanently incorporate the gene of interest in the host genome; assures long-term expression of the therapeutic genes. Retrovirus (RT), lentivirus (LV), and adeno-associated virus (AAV) are the most commonly used integrative viral vectors.
As cell and gene therapy applications are pervasively being developed, the viral vector market is rapidly increasing and estimated to reach up to USD 815.8 million in 2023 at a CAGR of 20.0%. Challenges remain for established and start up manufacturers to provide effective viral vectors at cost-effective prices. Strategies and technologies that address these challenges include those that improve yield and productivity.
In an effort to ultimately reduce the cost of gene therapy for patients, Esco VacciXcell offers Tide Motion® bioreactors capable of scalable culture of the most dominantly cell line used in viral vector manufacturing, HEK 293 cell lines.
Tide Motion bioreactors have been demonstrated in culturing HEK 293 cells and subsequent production of high-titer lentiviruses. HEK 293 cells were seeded in the CelCradle™ bioreactor prior to transfection. A 3rd generation lentivirus was expressed through 3 packaging plasmids and 1 expression plasmid. Three days after transfection, supernatant containing the secreted viruses was harvested and quantified thru transduction and fluorescence-activated cell sorting (FACS). A total of 2-4 billion TU was obtained for three separate viral production runs in the bioreactor.

Figure 1. Growth curve of HEK 293 cells in CelCradle™ bioreactor (left). Equivalence of viral titers
obtained in 2D culture (right).
Fig. 1 demonstrates higher yields in linearly scalable Tide Motion bioreactors from laboratory scale (CelXrocker™), to bench-top scale (CelCradle™ and CelCradle™-X), and pilot scale (TideXcell™) - all offering culture technology for the diversity associated with viral vector therapy development (preclinical to commercial).
As new decade of viral vector manufacturing kicks in, Esco VacciXcell's purpose of providing solutions for eventual relief of patients remains.
References:
Crespo-Barreda, A., Encabo-Berzosa, M. M., González-Pastor, R., Ortíz-Teba, P., Iglesias, M., Serrano, J. L., & Martin-Duque, P. (2016). Viral and Nonviral Vectors for In Vivo and Ex Vivo Gene Therapies. Translating Regenerative Medicine to the Clinic, 155-177. doi:10.1016/b978-0-12-800548-4.00011-5

Masri, F., Cheeseman, E., & Ansorge, S. (2019). Viral vector manufacturing: how to address current and future demands? Cell & Gene Therapy Insights 2019; 5(Suppl. 5), 949-970 doi:10.18609/cgti.2019.104

Markets and Markets (2018). Viral Vector Manufacturing Market by Type (Retrovirus, Gammaretrovirus, AAV), Disease (Cancer, Infectious Disease, Genetic Disorders), Application (Gene Therapy, Vaccinology), End User (Biotech companies, Research Institutes) - Global Forecast to 2023. Retrieved January 6, 2020 from https://www.marketsandmarkets.com/Market-Reports/viral-vector-manufacturing-market-89341986.html