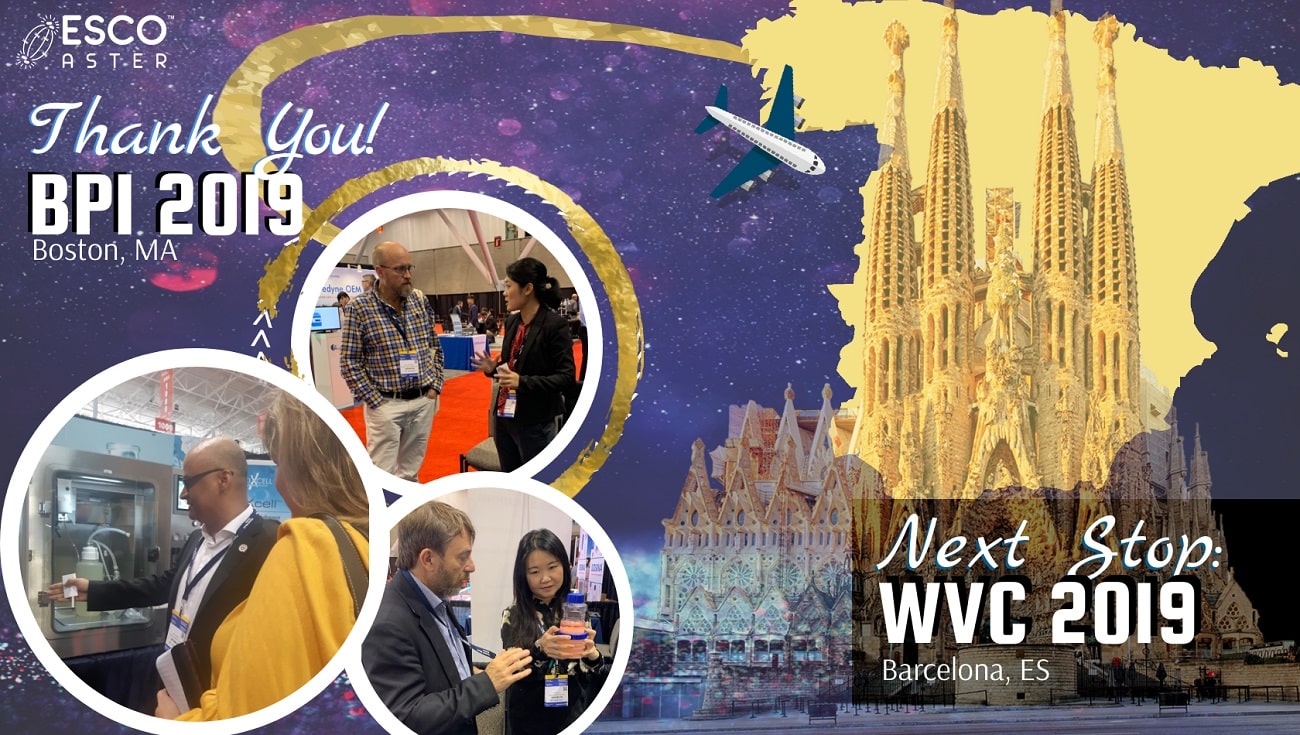 Here is where Esco Aster will be this month after the BPI Boston Show:
Esco Aster successfully launched TideXcell™, an agile adherent scale-up bioreactor and the latest addition to the Tide Motion bioreactor platform at BioProcess International (BPI) in Boston. The team will now advance from Boston to Barcelona and continue its aim to provide enabling technologies for the advancement of the vaccine manufacturing industry. About 600 visitors are expected to attend the World Vaccine Congress exhibition in Barcelona, Spain from Oct. 28-31. Participants can expect ground-breaking sessions in the vaccine manufacturing field, especially for animal health.
The Tide Motion bioreactor was developed for GMP compliant adherent cell scale-up. Applications include bioproduction of vaccines, where the use of adherent cells are likely to persist, viral vectors, and stem cells. The TideXcell™ bioreactor, as well as other equipment employing the Tide Motion principle, is used to establish a robust and scalable platform using macrocarriers to produce large scale of VERO cells, other adherent cell lines for viral vectors, oncolytic viruses or cancer vaccines (virotherapy).
The Tide Motion platform answers most challenges in the cell manufacturing process. The bioreactors are GMP compliant and linear in terms of adherent scale-up. The term "Tide Motion" is the gentle upward and downward motion of the culture medium in the bioreactors. This platform ensures that adherent cells being cultured have high aeration and nutrition exchange, resulting in high adherent cell yield and high viral titers.
"I have seen first-hand the importance of consistent, productive, and reliable technologies for vaccine makers who rely on adherent cells and believe that Tide Motion technologies will provide high product yield to reach the goal of producing safe and effective vaccines," said Xiang Liang Lin, Chief Executive Officer of Esco Aster. "We will present our process optimization data in producing high viral titer yield using adherent cell lines for rabies, pig, and human influenza vaccines as cultured in Tide Motion bioreactors."
Details on how Esco Aster can provide process development and contract manufacturing (from upstream to downstream, formulation and filling), consultation, and clinical research services can be found on the Esco Aster website.
Drop by booth #16, exhibition hall to find out more.
Event Details:
World Vaccine Congress Europe 2019
Date : 28-31 October 2019
Location : Booth #16
Palau de Congressos de Catalunya Barcelona, Spain
About Esco Group
Esco Group's vision is to invent, discover, and commercialise enabling technologies to make human lives healthier and safer. Esco Group is a Singapore-based life sciences ecosystem builder comprising over 30 companies, 1000 employees, with proprietary products and services sold in 100 countries.
About Esco Aster
Esco Aster is the bioprocessing arm of Esco group, with a focus on developing adherent and scalable bioreactor platform and associated process development services, to serve vaccine-, cell- and gene-therapy bioproduction.
For more information, visit www.escoaster.com.
Esco Aster Pte Ltd
21 Changi South Street 1
Singapore 486777
Telephone: +65 6542 0833
Email: [email protected]
Annex - Esco Aster Team at BioProcess International 2019