VacciXcell was recently at The International Society of Cellular Therapy (ISCT) in Singapore. Held at the Suntec Convention and Exhibition Centre, the 22nd Annual Scientific Meeting was held in Asia for the first time. The program, which ran from May 24 to May 28, enabled registrants to participate in conferences in the Plenary Hall, whereby speakers discussed topics such as Development Pathways for Immunotherapy Based Products, Minimally Manipulated Cell Therapy in The Clinic and Emerging Cell Therapies in Asia.
ISCT was formed in 1992 with the aim of bringing industrial professionals together to improve patients' lives. ISCT has thus formed committees to address industry, regulatory and scientific focused matters in the field.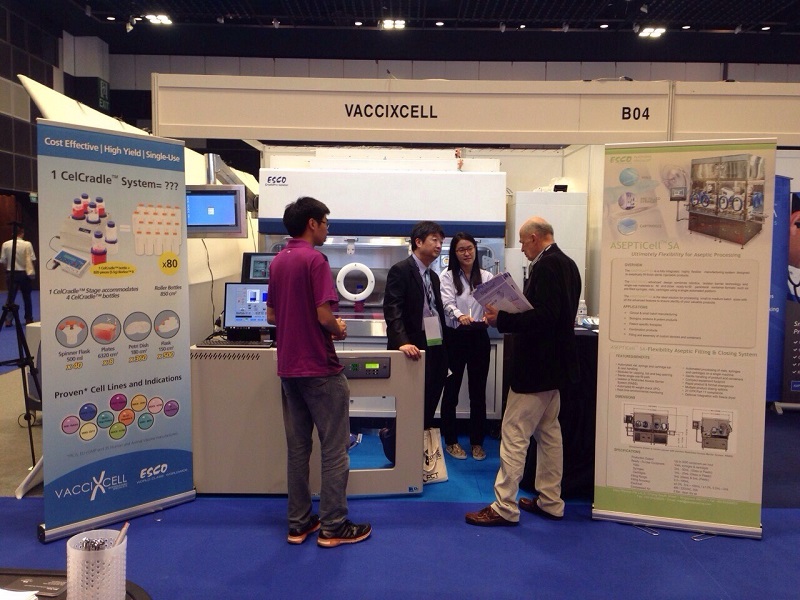 Numerous companies in the cellular therapy field showcased their equipment in the Exhibit Hall, allowing exhibitors and attendees the opportunity to network and forge potential partnerships. VacciXcell exhibited the CradlePro Isolator and TIdeCell® High Density bioreactor system. The CradlePro-Isolator provides a well-isolated and highly aseptic environment for cell culture, ideal for working with infectious viruses.
The TideCell® High Density bioreactor system is the extended large scale system of the CelCradle. Similarly, this system involves BioNoc™ II carriers and is designed to ensure cells receive sufficient oxygen and nutrition. Local visitors and foreign delegates from countries such as China, Indonesia and the United States expressed great interest in the two systems.
Vaccixcell had a fruitful time at ISCT and we look forward to the upcoming events: Elsevier Vaccine Congress on 4-7 September 2016 in Amsterdam, Netherlands, World Vaccine Congress Europe 2016 on 10-12 October 2016 in Barcelona, Spain, and World Vaccine Congress USA 2017.
For a complete list of Vaccixcell's events, please click here.