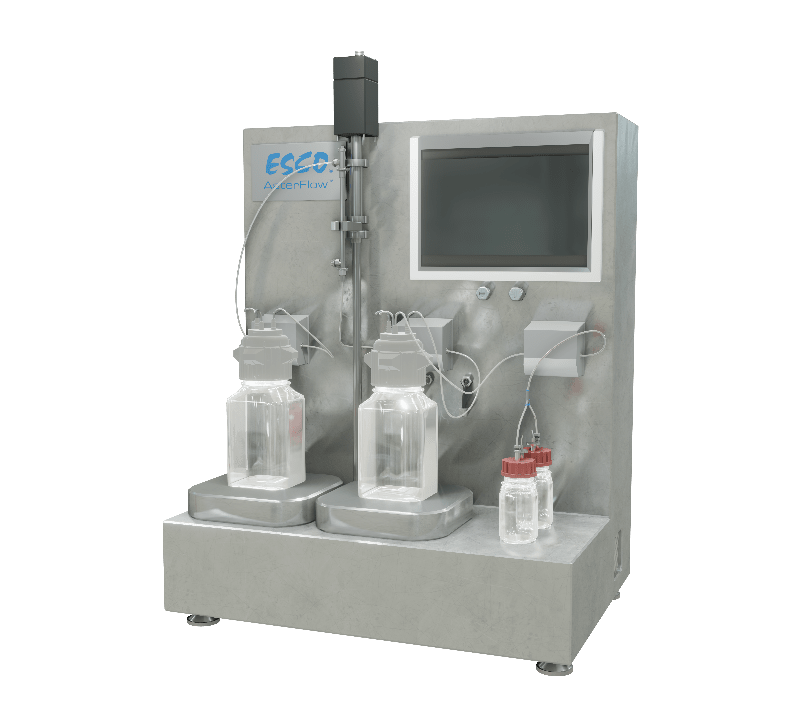 Introducing the new line of filtration systems from Esco VacciXcell, marking an expansion of our comprehensive core Tide Motion technology portfolio.
AsterFlow™ is a single-use, compact, configurable filtration platform tool ideal for downstream processes such as clarification, concentration, diafiltration, purification and recovery for a variety of products. The system is designed to be compliant to 21 CFR Part 11 that is suitable for process development, manufacturing of clinical trial and cGMP material. Especially in the case of vaccine manufacturing, where impurities must be removed, and formulation must be highly safe for human or animal use.
Applications
Concentrate and desalt proteins and peptides.
Concentrate and desalt nucleic acids [DNA/RNA/oligonucleotides].
Recover and purify antibodies or recombinant proteins from cell culture media.
Recover and purify plasmid DNA from cell lysates or chromosomal DNA from whole blood.
Fractionate dilute protein mixtures.
Clarify cell lysates or tissue homogenates.
Depyrogenate (remove endotoxin from) water, buffers, and media solutions.
Prepare samples prior to column chromatography.
Harvest cells.
Purify and concentrate viruses.
Filter viruses.
This standalone model is capable of processing batches up to 5 L, across different membrane types from 50 cm2 to 0.14 m2. It is compatible with a range of filtration modules like hollow fiber cartridges, tubular ceramics, and spiral wounds. The stainless-steel robust body with platinum-cured silicone flow path assures high-effectiveness and long-term quality.
High precision pressure sensors located within the feed, retentate, and permeate line allows the user to define process operating controls. Low shear peristaltic membrane pump delivers output ranges from 0.24 to 1, 632 mL/min and is well suited for working with shear-sensitive products. User- friendly, interactive, 21 CFR Part 11-compliant 12" HMI/PLC enables full system view and control of in-process parameters supporting operations in both laboratory and production conditions. The software also contains in-built programs for the various modes of operation.
The AsterFlow™ is flexible for customization based on process requirements such as custom holders for cartridge filters, in-line pH, conductivity, and temperature sensors, auxiliary diafiltration or feed pump, gamma-radiated flow paths and reservoirs.
The AsterFlow™ is available to order, so get in the zone with AsterFlow™ for your next filtration process!
Click here, for more information or contact us at [email protected].