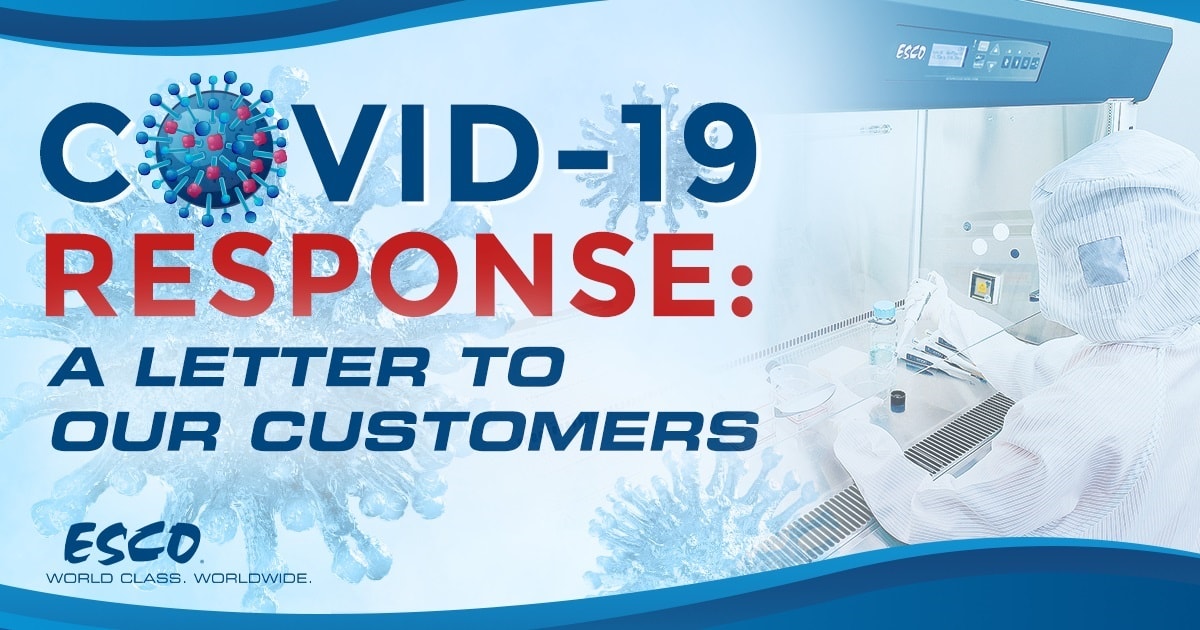 COVID-19 Response
A letter to our customers
The COVID-19 pandemic has been dominating global headlines in recent times. It is indeed worrying for everyone, and it is uncertain how the situation will pan out in the coming months. Nonetheless, Esco would like to assure all our customers that we are with you in these trying times. We have your back.
We have taken the all-hands-on-deck approach in dealing with this global health situation. To continue to provide our best support to you, we have begun executing our business continuity plans in all our global offices. It is important to note that Esco is not experiencing disruptions in operations and supply of our products and services at this point of time.
Our business continuity plan includes:
Response Team: Our global offices have set up a response team that keeps up to date on the COVID-19 situation and helps to disseminate the latest news to all our staff. The response team also helps ensure that the business continuity plans are being executed. There is regular communication amongst the different team. This regular communication ensures the global offices are aligned as we continue to support you.
Staff Health & Safety: As the well-being of our staff is our utmost priority, we monitor the health and condition of our staff and take their temperature twice daily. Work areas are disinfected on a regular basis, and hand sanitizers are made available in all departments. Posters are put up to constantly remind staff to practice good hygiene. As our staff population remains healthy, we will continue to operate, manufacture, and provide our services to you with minimal disruptions.
Working Remotely: Our customer service support teams are well-equipped to work remotely if and when needed to take your orders and provide assistance to your queries. Our systems are also configured that the operations can continue when working remotely is required. In other words, should our premises stop operating, our staff won't.
Supply Chain & Logistics: Our operations are supported by a number of strategic suppliers and logistics companies. We are in contact with them to ensure that they can maintain acceptable service levels while implementing their own business continuity measures. With this, we can keep any supply chain related delays of your orders to the very minimum.
Esco has an important role in the global healthcare system. We invent, discover and commercialize enabling technologies that will help make human lives healthier and safer globally. With more countries in various forms of lockdown globally, Esco is committed to serving our clients for biosafety, biosecurity, biocontainment, diagnostics, therapeutics and vaccine self-sufficiency. Our biological safety cabinets, real time PCR with PCR cabinets are certified to all international standards. These are used to protect operators, scientists and lab technicians, many of whom are working in diagnostics, therapeutics and vaccine translational development. Our bioreactors and fermenters as well as filling line isolators are used for therapeutics and vaccine drug substance and drug product development and manufacturing.
We will continue to place high importance in executing our business continuity plans, and yet at the same time, be sensitive enough to adjust according to latest developments and guidelines from relevant governing bodies.
Should you have feedback or questions with regards to our business continuity plans, please contact your local customer support team. Be assured that we are with you in these trying times.
We have your back.


XiangQian (XQ) Lin
CEO and President - Esco Group of Companies