AROUND
95%

OF RESEARCHERS

DO NOT KNOW

THAT THEIR CELLS STARVE OF GLUCOSE DURING THEIR CULTURE PROCESS

During in-vitro cell culture, it is important that the culture environment mimic the chosen cell line's original in-vivo environment for it to grow and propagate. Glucose, being the main source of energy for heterotrophic cells, is one of the parameters that should be carefully monitored during the culturing process.

Wrong glucose concentration in the culture environment might have unwanted results on the cells being cultured. If there is a lack of glucose concentration in the culture medium, the cells will not have enough energy to properly grow and propagate. On the other hand, too much glucose within the culture media would subject the cells to a diabetic-like environment which could have detrimental effects such as glyoxidation and glycation.

Glucose concentration monitoring is also vital for determining cell growth and proliferation using metabolic analytical techniques. One of the most common technique is in the use of a glucose curve. By plotting glucose concentration versus the length of time of the culture (usually in days), cell density can be approximated by the rate of glucose consumption within the culture environment.
Fig. 1 Sample Glucose Curve
Without the use of such analytical techniques, sampling techniques are required in order to check cell growth and density during the culture process which is both labor intensive and time consuming. In addition, cell death due to lack of glucose cannot be immediately determined using sampling techniques.
The challenge of having the correct glucose concentration during cell culture is having the proper tools and equipment to measure it. As can be seen from Fig. 1, estimating glucose concentration relative to a timeline is a very poor measurement technique as glucose curves tend to be non-linear.
Glucose concentration in media is traditionally measured using wet chemistry which not only requires a lot of preparation but is also open to contamination. Automated chemical analyzers have also been developed for laboratory purposes but they are relatively expensive and bulky, making them impractical to most laboratories. Human blood glucose monitor has also been studied upon as a low-cost alternative to expensive chemical analyzers but due to the difference of chemical compositions of the human blood and culture media, the results from these devices are unreliable.
INTRODUCING GLUCCELL®
GlucCell® is a low-cost glucose monitoring system specially designed to facilitate the measurement of glucose. It is intended for use by laboratory researchers and bioprocessing professionals to obtain a quantitative measurement of glucose specifically in cell culture applications.
GlucCell® Glucose Monitoring System is a combination of glucose biosensor technology with microprocessor-based instrumentation. The glucose measurement is based on the oxidation of glucose by glucose oxidase enzyme.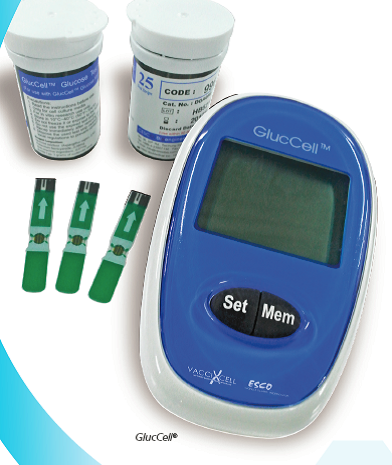 Features:
Portable Meter and Disposable Test Strips
Small Sample Volume and Fast Analysis
Safe and Secure Handling
Accurate and Reliable Results (99.5% measurement correlation with the leading biochemical analyzer)