Milk Protein

/ Dairy Products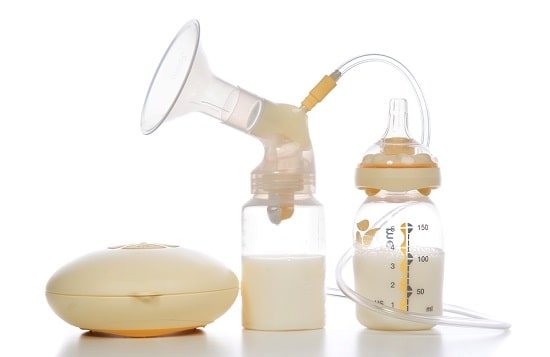 Although no one can deny the benefits of breastfeeding, some mothers encounter challenges related to it including bleeding, sore nipples, cluster feeding, and poor attachment. This forces them to resort to artificial and commercial milk sourced from animals which are not of the same value with the human breast milk. Sugars, fats, and immune cells are lacking in current commercial formula. Human milk also varies for each mother, and thus each baby has their own customized milk. Previous infection of the mother can generate antibodies that studies have found to pass to her milk, including COVID-19 infection as some studies suggest.
Aside from breastfeeding concerns, milk from cows are sourced from cattle farming which can be difficult to achieve under high temperature regions such as the tropics. Also, contaminants may be found in the milk when antibiotics are used for treating mammary glands infection. Other alternatives such as plant-derived products have been in development but may not have the nutritional content that is needed for babies.
Several companies have started to grow breast milk from cells in the laboratory including Biomilq (North Carolina) and TurtleTree Labs (Singapore). Both companies asks mothers for samples which contain cells to grow and expand. Other companies focus on producing proteins through fermentation including Better Dairy (UK), Remilk (Israel), Perfect Day (USA), and New Culture Food (USA).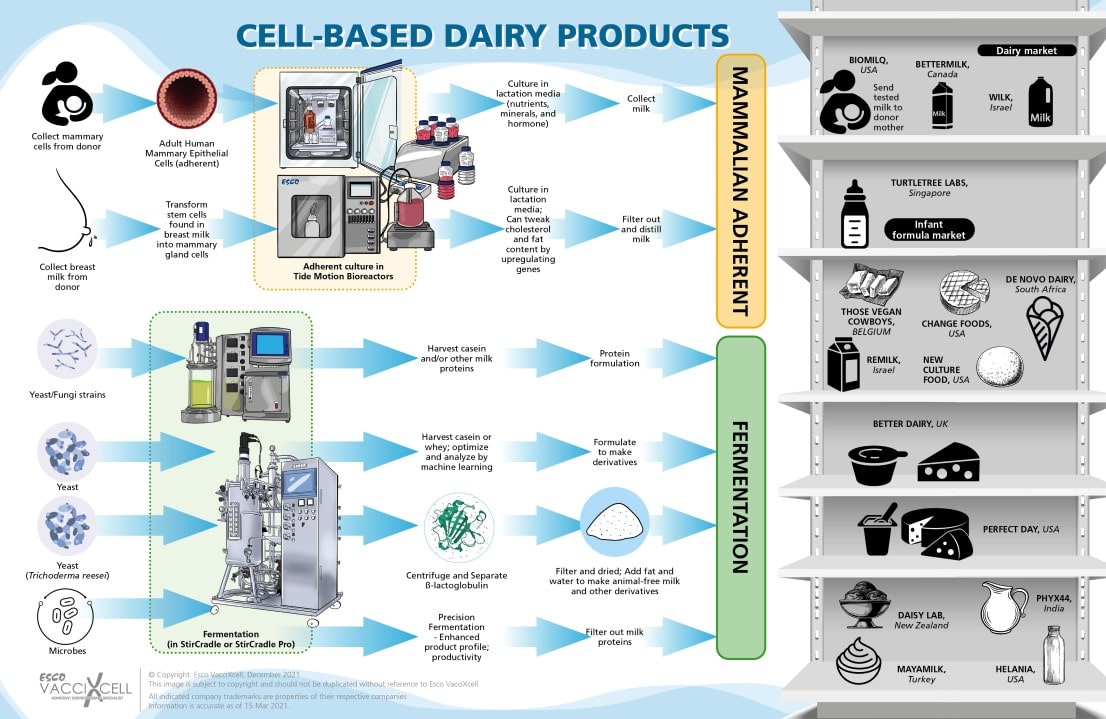 Challenges of this novel dairy milk production include manufacturing consistent composition in terms of production for the dairy market as well as quality monitoring different from the current QC techniques for dairy products. To help the cellular agriculture industry, incubator programs such as Mylkcubator, by Pascual Innoventures, has been launched targeting innovation by start-ups. These start-ups would have access to food experts as well as established facilities to ramp up product and technology development.
Aside from cell-based dairy products, other technologies such as Moolec Science hybrid plant and cell-based proteins are also entering the development of animal-free dairy and egg options. They use genetic engineering of animal proteins into crops which would be grown and harvested for a carbon-neutral and animal-free process.
These budding cell-based dairy products are proof of the use of cell-based technologies for the production of nutritionally important products. However, these are still in early, infant, stages and immunologically, current cell-based breastmilk is still not considered replacement as it is still missing immunological and hormonal components from breastmilk. To date, cell-based breastmilk is considered a supplemental nutrition aid.
References:
Brownlow, S., Cabral, J. H. M., Cooper, R., Flower, D. R., Yewdall, S. J., Polikarpov, I., … Sawyer, L. (1997). Bovine β-lactoglobulin at 1.8 Å resolution — still an enigmatic lipocalin. Structure, 5(4), 481–495. doi:10.1016/s0969-2126(97)00205-0
Lamb, C. (2020, February 06). BIOMILQ has grown the main components of Human breastmilk in a lab. Retrieved February 15, 2021, from https://thespoon.tech/biomilq-has-grown-the-main-components-of-human-breast-milk-in-a-lab/
Lamb, C. (2020, April 15). FDA approves PERFECT DAY'S Animal-Free whey protein as safe to eat. Retrieved February 15, 2021, from https://thespoon.tech/fda-approves-perfect-days-animal-free-whey-protein-as-safe-to-eat/
Moolec Science Expands Portfolio With Animal-Free Egg & Dairy Hybrid Proteins. Green Queen. (2021, April 12). https://www.greenqueen.com.hk/amp/moolec-science-expands-portfolio-with-animal-free-egg-dairy-hybrid-proteins/.
Ravindran, S. (2020, December 30).

The Promise and Challenges of Producing Human Milk in the Lab

. International Milk Genomics Consortium. https://milkgenomics.org/article/the-promise-and-challenges-of-producing-human-milk-in-the-lab/.
S'pore startup RAISES S$4.46 million to Cultivate breast milk in lab. (n.d.). Retrieved March 25, 2021, from https://mothership.sg/2020/07/spore-startup-lab-milk/
World's First Cell-Based Alternative Dairy 'Mylkcubator' Program Launches. Green Queen. (n.d.). https://www-greenqueen-com-hk.cdn.ampproject.org/c/s/www.greenqueen.com.hk/amp/worlds-first-cell-based-alternative-dairy-mylkcubator-program-launches/.